How to Manage Pain While Traveling: 10 Arthritis Management Strategies and Solutions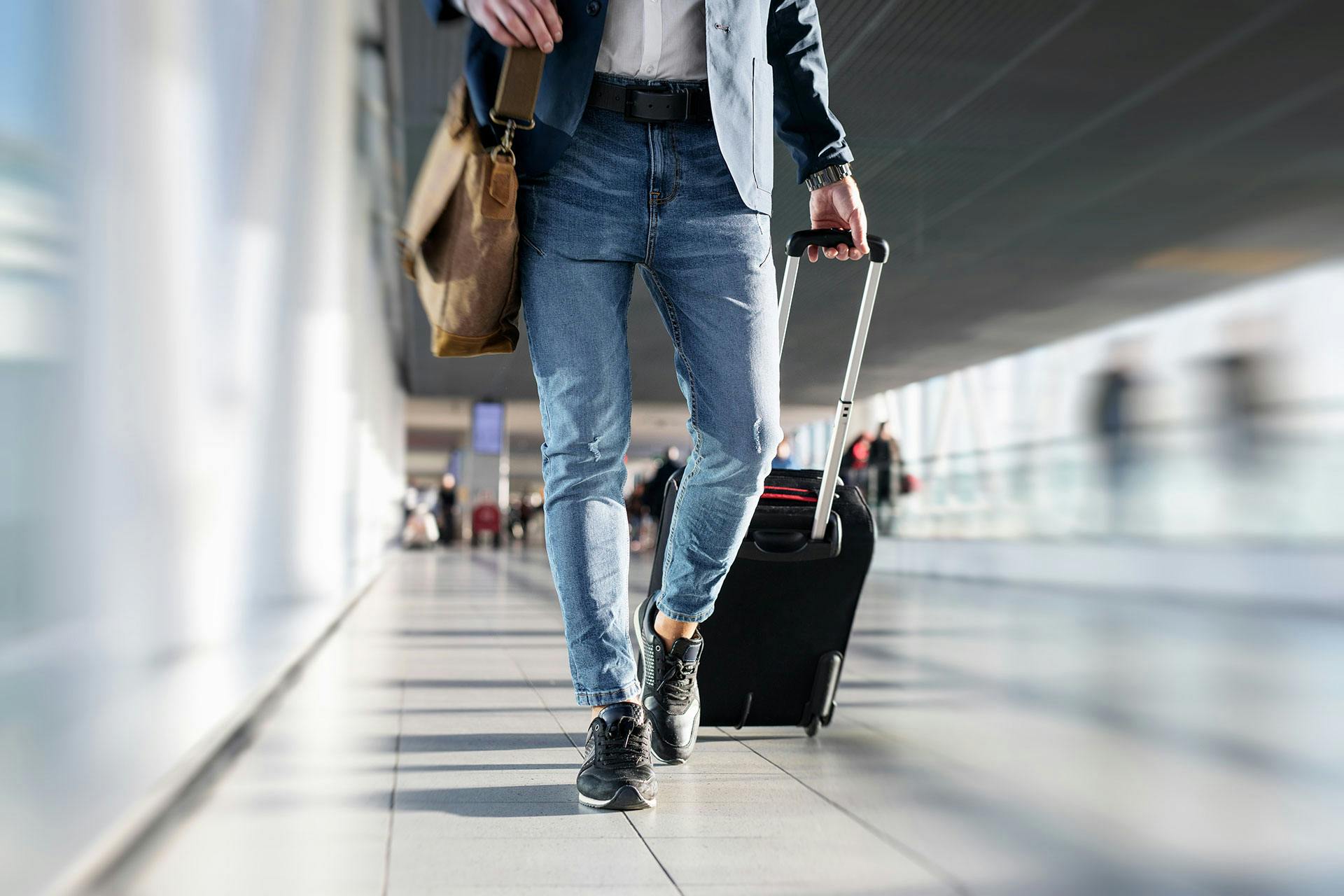 For those living with arthritis pain, the idea of travel can sometimes be daunting. But don't let osteoarthritis hold you back! We all deserve a vacation—and with a little planning and a few tips and tricks in your back pocket, it's more than possible to manage arthritis pain while traveling. Below, you'll find 10 arthritis pain management strategies to use while traveling so book your tickets and pack your bags!
1. Choose comfortable accommodations
Whether you're staying in a hotel, in a vacation rental, or with family and friends, making sure that your accommodations are as comfortable as possible is important. When you're selecting a place to stay, here are a few factors to keep in mind:1
Distance from areas of interest. How far is your hotel or rental from the places you'll be visiting? Is it within walking distance of public transportation?
Are there elevators? If you're not staying at ground level, make sure there are elevators available.
Are there exercise facilities? If you're staying in a hotel, find out whether or not you'll have access to a gym, sauna, hot tub and/or pool.
Bathroom accessibility. If possible, find out whether the place you're staying has a raised toilet seat in the bathroom and levers rather than round knobs for sink, shower, and door controls.
2. Find a travel buddy
If possible, find someone to travel with you to ease the burden of carrying heavy luggage, driving long distances, and the other logistical aspects of travel.
3. Bring an assistive device
Whether or not you normally walk with a cane or use a beaded seat cover, bringing devices like these along while you travel can help you manage pain on the go. Folding canes and wheelchairs are available for travel, as are portable raised toilet seats and folding reachers.1 You should also consider bringing along a pillow for your neck or back, if these are areas that often cause you pain. Heating pads are small and easy to pack but can make a big difference at the end of a long day of travel!1
4. Pack smart
Prioritizing the essentials and avoiding over-packing is always a good idea while traveling, but being thoughtful about your luggage and what you're bringing is extra important when you're managing arthritis pain. Here are some packing tips that can help you manage your pain while traveling:1
Do laundry. If you're staying someplace that has laundry facilities, pare down on the amount of clothing you bring and plan to do laundry a few times during your trip.
Invest in high quality lightweight bags. Choose luggage that is lightweight and has comfortable shoulder straps or wheels.
Get help carrying your things. Don't be afraid to ask for help carrying your bags—whether from a hotel porter or your travel companions!
Bring your walking shoes. Even if you don't plan to be walking a lot during your trip, you won't regret bringing comfortable shoes that provide needed support.
5. Consult your doctor
Before heading off on a big trip, discuss your questions and concerns with your doctor. They'll be able to speak to your specific situation and might have helpful tips for arthritis pain management!
6. Factor in some breaks.
Whether you're flying, driving, or taking a train, travel often involves long periods of sitting. When possible, factor in a break or two during your travel to help manage some of the pain that can result from sitting.2 If you're driving, stop at a rest stop and stretch your legs every so often. If you have a long plane ride, get up out of your seat and walk around during the flight—or even schedule a trip with a connecting flight.2 Your joints will thank you!
7. Don't forget your medication
Making sure you have all your supplies and arthritis medication while traveling is important. Keep pain relief medication in an easily accessible place, like in your carry-on bag. It's also a good idea to look up the nearest pharmacy to where you're staying, in case you need a last-minute refill.
8. Avoid sitting still
Even if the fasten-seatbelt sign is on or you're in the passenger seat of the car on a road trip, that doesn't mean you can't sneak in some movement while seated! Here are a few exercises that you can do en route to get your blood flowing, even if you're not able to stand up:
Bend and straighten your knees
Trunk twists
Make wrist and ankle circles
Activate your core and sit up straight
Gently roll your shoulders
Whether you're headed on a plane overseas or simply driving to a neighboring town, we hope you'll bring these arthritis pain management tips for travel with you. For more pain management tips, check out our articles on managing arthritis at work, managing arthritis at home, and living independently with arthritis.
Feel The Joy Of Movement
No matter the day, the hour, or what you're doing, embrace the joy of movement with the help of specialized products from Voltaren: powerful gel for arthritis pain† or new, drug-free, dietary supplements for healthy joints.*
†Use as directed. Voltaren is approved for treatment of arthritis pain.
Dietary supplements from Voltaren are not intended to treat arthritis pain.
*These statements have not been evaluated by the Food and Drug Administration. These products are not intended to diagnose, treat, cure or prevent any disease.